in veterinary

practice management
Would you like to learn how to manage your clinic more efficiently, but don't know where to start?
Would you like to become one of those people that everyone would like to have in their clinic because they make everything and everyone work better?
How would you like to have a method and super practical tools to become that person who knows how to get results in your clinic and also create a good working environment?
Would you like to have the feeling that you control your clinic, and not the other way around?
If the answer to any of these questions is yes, we have very good news for you. The VMA Veterinary Practice Management course is what you've been waiting for!
VMA (Veterinary Management Academy) was born from the crossroads of Miguel Angel Diaz (Pancho) and Pere Mercader.
After more than 20 years of delivering separate workshops and seminars to thousands of veterinarians in more than 35 different countries on four continents, these two seasoned trainers felt a significant frustration because they felt they couldn't help their students enough... The few-hour lectures or one-afternoon workshops helped students open their eyes to the world of practice management, but lacked the continuity over time and depth of content to change the lives of these professionals. They generated both interest and anxiety.
That is why, when in one of their regular conversations they discovered that they both felt the same challenge, they committed to start a project that could really help the veterinarians of the world to enjoy the management of their practices as they had never imagined possible...
VMA had just been born: a space dedicated to rigorous, honest, practice-focused training for all those interested in the wonderful challenge of veterinary practice management.
Business Development Manager UNAVETS
Great course! Wonderful speakers and great students. Highly recommended!

Owner in Clinica Veterinaria Juan Valera
I signed up for the course to contrast my way of managing the Hospital after more than 30 years of experience. The experience has really exceeded my expectations, and has made me aware and enabled me to do things much better in every way. It has been a revulsive for my last stage of my professional career. I am very grateful to the entire VMA team for making me realize so many possibilities for growth.
Consultative Sales and Marketing Specialist -Communication Facilitator
Personally I can say that there is a "before" and an "after" of this course. It is a course that gives you a lot (thanks to the experience and knowledge of the instructors) but also allows you to reflect on yourself, know yourself better and identify what you are doing right or wrong and what you should change or how you could improve. And beyond the concrete learning experience it offers you, it motivates you to keep improving yourself.
Chief Medical Officer at Hospital Veterinario Dr.Cardona, Mexico DF
They exceeded my expectations. Sincerely, I have never taken a course so well structured and planned. And completely practical. It talks about our day to day life. They are daily situations that happen to us in the workday. I loved it!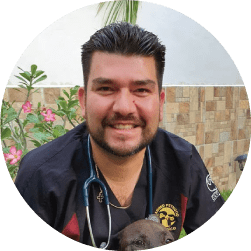 Planned pethood mexico General Manager
In any course we find management information, figures, standards, KPI's and parameters, but in few or none like those that Pere and Pancho land and raise for our 100% veterinary environment. Their joviality, charisma and experience complement, as well as guarantee the understanding and practicality of this information equal or more important than the medicine itself.
Veterinarian-Center Manager
"Management", a word that is little recognized among clinical veterinarians and that in many occasions we only relate it to the owners of the centers. This is not my case, when I saw the program announced I thought it was the time to be able to introduce myself in this subject. We should all acquire this knowledge. It would make us work better, be more productive and I would even dare to say be happier doing what we like. I would definitely recommend this course both for center managers and for the employed veterinarians themselves with an interest in the subject.
Beatriz Quintero Hernández
Veterinarian, Manager of Terra Group and Coach
Thanks to Pancho and Pere's Veterinary Clinic Management course I have been able to review with theory and practical exercises the most important parts of the day to day of the veterinary clinic. It has introduced me to new tools that I can use in my clinic and without a doubt I recommend it to all clinic managers who want to provide a top customer service and have the main indicators of their business under control.
Veterinary Doctor - CMVP 8748
The mentors are very capable in their respective areas of work, they give necessary tips to achieve understanding and grasp in a better way the essential ideas of the work. Another strong point is the dynamics of the course, which allows for an enriching exchange of experiences with the participants. The videos are very well done and the platform is very well distributed and clear to understand. No matter what age you are, this course will serve you
Rodrigo Andrés De Vivero Martelo
Dedicating oneself to administrative management requires not only willingness and attitude but also technical knowledge to apply them in the respective companies, in order to have satisfied customers, happy and committed collaborators with the brand and have the ability to generate value. In the veterinary practice management course, I was fortunate to obtain easily applicable tools to meet our objectives in addition to meeting amazing people from all over the world.